---
VITA MUTARI SALON | 2016
public art - Houston, TX
(collaboration with Julie Worsham)
Mixed-Media Abstract Art
Large Image Transfers On Canvas and Wood (at various sizes)
This was a series developed last year in our spare time. We wanted to test techniques freely and / or be putting a show together. All photos were taken by Julie Worsham on a  35mm.
Julie spent time getting base grit layers sexy + image transferred on to the pieces. We discussed options for color pallets / layers, but generally Julie likes to say a few things about her vision and she then lets me add my own layering. We have a way of meeting one another and walking straight up the center when collaborating. Julie would go in every few layers and play with making the textures more raw and distressed, then pass it back to me and repeat.
The salon approached us and was in complete need to cover their walls and because the pieces we had created had women with amazing haircuts and playful outfits it ended up fitting the space perfectly, in addition to the collaboration they included a number of my original abstracts. They salon is located at 2442 Bissonnet Street in Houston, TX 
---
SIKMULE Album Art | 2016
 mixed media by: Stephanie Gonzalez
(1) CD and t-shirt design using original artwork 
I was approached by Nick, the drummer of SIKMULE which is a Stomp-Rock Groove Blasts band. The band was looking to hire a local artist to problem solve and come up with a look that would represent their raw, electric, Punk-Drunken Bluesy Rock sound. I worked closely with them to chose a painting that would translate who they are in art. After some back and forth we chose the one, a piece called "Nothing Was The Same".
Watson, who does guitar and vocals for the band made a sketch of the track list, It was an awesome design of a skull which was made up by the titles of the songs in the record. I took his design and cleaned it up, making it look a bit more digital so that it could be used on their products.
SIKMULE has that soulful sound & wild performance, they wont disappoint! check them out below if you haven't heard them yet:
---
CITY CENTRE | 2015
public mural - Houston, TX
(collaboration with Julie Worsham)
"Art Is Good For The Soul"
(1) 20′ x 20′ Mixed-Media Art Wall 
A mural project CityCentre created to bring urban art into the city and give it life. The 20′ x 20′ mixed-media piece spent summer '15 living outside CityCentre's Urban Outfitters and Free People location.
The photo we used was from an earlier studio photo shoot by Julie Worsham. They gave us a plastic meshing we had never worked with before, this presented a challenge and our usual technique had to be altered in order to make it work. The final outcome made us pretty happy in the end. Julie and I celebrate imperfection and think of it as something beautiful.
This is the largest size piece we have done currently and quickly realized we did not have enough space to work on it on our regular studio. Thankfully we were lucky enough to go paint at a friend's ranch a couple of minutes outside the city. 
---
SHANKS LOCKWOOD COMMISSION | 2015
photography by: Rain Shanks, mixed media by: Stephanie Gonzalez
Denver, CO
"Nothing Was Wrong With Us" (Left)
"Distance Is Just" (Right)
(2) Photography And Mixed Media On Paper
Shelly Shanks is an amazing artist  whom I have know for years now, when she approached me to create a commission I was extremely exited. She mailed me two photographs that were taken and digitally manipulated by Rain Shanks, her daughter who is also an amazing artist.
I took the photographs and created a story based of the life of a young gay girl who had a happy supportive loving family, her life soon became full of sadness after her girlfriend was taken to a boarding school after her parents found out she was dating a girl.
The piece on the left is named "Nothing Was Wrong With Us" in this piece I used graphite, oil pastel, antique stamps, gold leaf, ink and coffee. The piece on the right is named "Distance Is Just" it was made with pieces of a map, gold leaf, oil pastel, graphite, coffee, ink and antique stamps 
---
TARAKAAN RESTAURANT & LOUNGE | 2015
custom art - Houston, TX
(collaboration with Julie Worsham)
(1) 50′ Abstract Geisha Mural On Brick
We painted abstract geisha's from an earlier studio shoot done by Julie Worsham. It's not 100% traditional geisha, mainly just wanted hints in the styling of shoot. The client wanted to do a concept that had been done in New York before, it was important to do our version of it. Make it as different as possible. We kept it super basic, enjoyed our messy side, and served our bad is good style. I promise they all talk *and for sure take their whiskey neat.
There was also a large section on the ceiling we created an abstract flower garden (on two 8'x8′ suspended wooden ceiling panels). This nested over a lower level dining area. The floral patterns are the same found on the geisha's kimono when you visit the VIP room. This pulled them together visually. Behind the bar you get the faces only up close, then in the VIP rooms you have three fully framed abstract geisha's (ranging up to 7′-8′ in height).
---
LE MERIDIEN SAIGON HOTEL | 2014
custom mixed media abstract paintings and photography - Starwood Hotels - Ho Chi Minh City 
(collaboration with Julie Worsham)
We were beyond honored and extremely challenged by such a large volume project. All work was a combo of photography (by a local Ho Chi Ming photographer and Julie Worsham), abstract painting and mixed media art by both Julie and I. 
There were approx. 300 pieces created. Every (3) 4'x8′ panels made up (1) 12'x8′ wall. Each suite we worked on had a 12'x8′ bed panel, another 12'x8′ for the living area wall, and some smaller pieces in the living / dining. The public spaces (bars, meeting rooms, restaurants, clubs, etc-etc…) of hotel had various sizes built through out, mostly more panel sets at 4'x8′ (on canvas or wood).
We explored a many new techniques, styles, materials, and color pallets. There were so many variations, it was shocking to look back. They provided us with color pallets, ideal concepts to stick within, and sizes for all works. Basically we were able to throw down using our own style and flavor, but while blending their branding / visual needs.
The work had my free abstract layers over image transfers and collage pieces that were created by Julie Worsham. Every commission I have created with Julie has been like a game of add-on. Always testing, sampling, discovering, and taking risks. 
---
ANTHROPOLOGIE STORE |  2013
Abstract Mural - Highland Village, Houston, TX
(collaboration with Julie Worsham)
(1) 5'x6′ On Canvas
We were asked to create an abstract mural for the Grand Opening Reception (at Highland Village location in Houston, Texas). The original artwork was sliced up by the Anthro visual team into small 3″x3″ squares. They chopped and white-washed wood blocks, then sealed the canvas to them.
On a visual note, doing this project we wanted to hold up the standard / quality of Anthropologie design + branding. It was important that we kept it earthy, feminine, and the season of bloom close in mind (this was an early March event). Felt like we were able to succeed in pulling those elements together. Everyone seemed thrilled! It was lovely to watch folks dig through them frantically until they found the perfect one (or five, lol) for them to take home.
see process snaps and store opening below.
---
FREE PRESS SUMMER FESTIVAL | 2012
Steam Punk Murals - Eleanor Tinsley Park, Houston, TX
(collaboration with Julie Worsham)
(4) 6'X5′ Murals On Canvas
The following shots are process images of steampunk murals (2 of the 4) created for the Fancy Pant VIP tents. These were thrown to us very last minute. Once we were told the theme, we barely had time to think. Just knocked out a simple solution to work visually *under a massive time crunch.
Julie researched online and pulled some steampunk head masks, they were later converted to one and two color vectors and stenciled by using a projector. Famous last step involved Julie and I playing a game of twister to get them painted on properly.
---
PRIVATE COLECTOR 
image transfer on wood - Houston, TX
"Women Like To Fuck Too"
(30" x 20")  Image Transfer on Wood  
The client is a huge Rat Pack fan, he was fascinated with them and Marilyn Monroe. I had multiple images at different sizes so I had to work with the placing of the work while maintaining the size he needed for his bedroom.
After working out the placement and placing a line that represents passion on the wood, I proceeded to transfer the images onto wood. I wanted to add a more weathered and antique look so I sanded the images. Finally  I added a wood stain and framed the piece to add a finished polished look.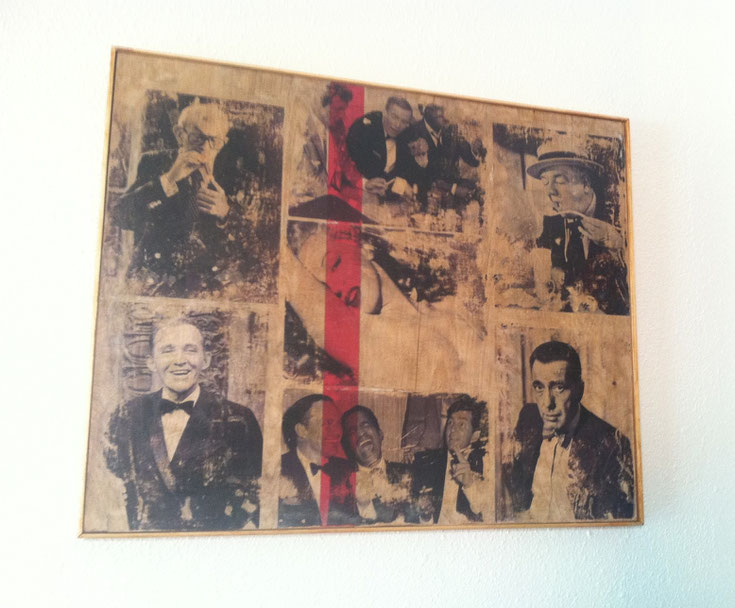 ---